Qiological Live
Anatomy of Meridian and Point Energetics
Photo: Martin Sanchez, Unsplash
This is the third in a series of Qiological Live Sessions introducing a simple, systematic and comprehensive model for diagnosis and treatment. This model is based on classical principles, Saam Acupuncture organ relationships and Meridian Therapy diagnosis and needling techniques.
In the first installment, a simple method for pulse- and abdominal diagnosis was introduced. In the second installment, a new way of looking at disease progression was discussed.
In this installment we will be discussing a topic which is often breezed over, but is ever so important to proper and effective acupuncture medicine. This is the anatomy of the meridians and their points.
The importance of being intimate with meridian and point anatomy cannot be overstated – it is vital for effective and efficient practice since it helps us to understand the proper meaning and application of diagnosis, treatment and the needling techniques of Tonification, Shunting and Draining.
​
In this real time event we will
Anatomy of the Meridians and their points – A different view of the Huang

The role of the Heart Protector and the Ming Men in Meridian and point Anatomy

The points as anatomical structures and how they react to pathology

A Discussion on Tonification and on Draining vs Shunting

How to locate and treat the points. Tonification and Shunting with contact needling
You'll have lifetime access to the recording of this Qiological Live seminar
Photo: John Callery, Pexels
Live event fee $35, length 90 minutes
Saturday February 26, 2022

9am Pacific • 10am Mountain • 11am Central • 12pm Eastern
Theory is great if it complies with experience
Photo: John Callery, Pexels
Your Instructor For This Class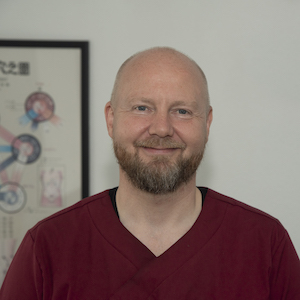 I was introduced to acupuncture in 1996 while undertaking studies in Korean language and culture in Seoul, South Korea. One acupuncture treatment with a few needles on the opposite leg of the knee that I had injured during martial arts practice took away my knee pain instantly and completely. This experience changed my life around – from the first needle I had a new destination. I had to learn acupuncture.
After returning to Copenhagen, Denmark, from Korea, I started studying TCM. I went into private practice immediately after graduating, but didn't find the TCM style of acupuncture a good match for me so I started looking at different styles of acupuncture and Japanese Meridian Therapy showed up on my radar. I was very fortunate to be accepted as a student of Ikeda Masakazu Sensei. He instilled in me a deep respect for the classics and showed me how to think in terms of basic principles and how to be pragmatic about them. I really owe him my practice.
Now I practice acupuncture based on Meridian Therapy diagnostic- and needling techniques, guided by the classics and incorporating the very powerful protocols of Korean Saam acupuncture. …and after 17 years of practice I am still having fun in the clinic every day.